We offer done-for-you ecommerce business opportunities
Schedule a free 15-minute call with our team to learn more.
How It Works
These Opportunities are completely Done-For-You and come with proven expert level talent and advanced seven-figure operating strategies.
The Project Passive Initiative was started to source legally compliant, and proven eCommerce Service Providers to those wanting passive income opportunities without "too good to be true" connotations that have unfortunately become the new normal in the new age of the internet.
There are many providers in this industry that advertise high profit potential without providing any shred of evidence for their claims. Results speak louder than words and our team's mission is to become an industry disrupter by locating the truly proven and tested business opportunities amongst the thousands of providers that offer these opportunities to bring to prospective consumers like you.
With our services, you'll be able hear through the noise and truly assess risk and maximize potential profit from business opportunities like you're supposed to.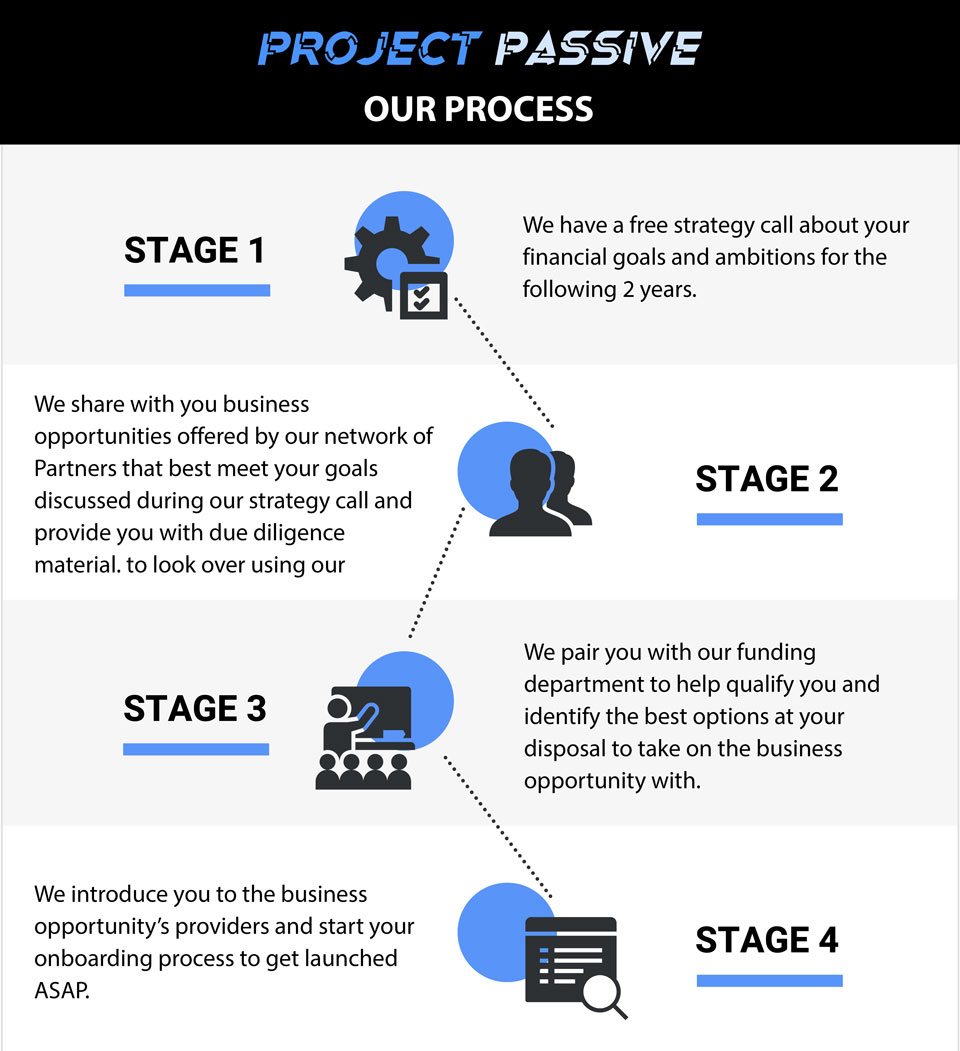 Earnings and income representations made by Project Passive LLC and their advertisers/sponsors/members/owners are aspirational statements only of your earnings potential. The success of Project Passive LLC, testimonials and other examples used can be exceptional, non-typical results and are not intended to be and are not a guarantee that you or others will achieve the same results. Individual results will always vary and yours will depend entirely on your individual capacity, work ethic, business skills and experience, level of motivation, diligence in applying the Passive Project Passive's Programs, the economy, the normal and unforeseen risks of doing business, and other factors.
The Project Passive Programs, and Project Passive, LLC individually, are not responsible for your actions. You are solely responsible for your own moves and decisions and the evaluation and use of our products and services should be based on your own due diligence. You agree that the Project Passive LLC's Programs are not liable in any way for your results in using our products and services.
See our Terms & Conditions for our full disclaimer of liability and other restrictions
here
.